Seasons and episodes
SUB

Apr. 28, 2020

SUB

Apr. 28, 2020

SUB

May. 31, 2020

SUB

Apr. 28, 2020

SUB

Apr. 28, 2020

SUB

Apr. 28, 2020

SUB

May. 28, 2020

SUB

May. 24, 2020

SUB

Apr. 28, 2020

SUB

Apr. 28, 2020

SUB

May. 17, 2020

SUB

Apr. 28, 2020

SUB

Apr. 27, 2020

SUB

Apr. 27, 2020

SUB

Apr. 26, 2020

SUB

Apr. 26, 2020

SUB

Apr. 21, 2020

SUB

Apr. 21, 2020

SUB

Apr. 20, 2020

SUB

Apr. 20, 2020

SUB

Apr. 18, 2020

SUB

Apr. 18, 2020

SUB

Apr. 13, 2020

SUB

Apr. 13, 2020

SUB

Apr. 12, 2020

SUB

Apr. 12, 2020

SUB

Apr. 06, 2020

SUB

Apr. 06, 2020

SUB

Apr. 05, 2020

SUB

Apr. 05, 2020

SUB

Apr. 05, 2020

SUB

Apr. 05, 2020

SUB

Apr. 05, 2020

SUB

Apr. 05, 2020

SUB

Apr. 05, 2020

SUB

Apr. 05, 2020
Synopsis
The following Series Girlfriend is a 2020 Chinese Drama Starring Fu Shu Yang, Lawrence Wong and Wu Hao Ze.
Also Known As: Lou xia nu you qing qian shou , 樓下女友請簽收.
Aired On: Sunday, Monday.
Plot:
When an extra gets hired to act like she has a crush on a CEO, the pretend romance becomes all too real.
Wen Xiaonuan has been trying to make ends meet in order to support the Huangmei Opera Troupe. Resorting to acting gigs to earn money, Wen Xiaonuan books an unusual job where she must pretend to have a crush on the handsome CEO Ye Feimo.
Tags: Watch Girlfriend all episode in high quality at KissAsian, Newasiantv, Myasiantv, dramanice, AsianWiki, Watchasian, fastdrama, dramavery.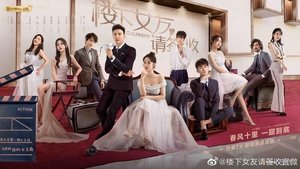 TMDb Rating 7 4 votes
First air date
Apr. 05, 2020
Last air date
May. 11, 2020
Average Duration
45 minutes
Leave a Comment